GENERAL INFORMATION
Availability: May 15th – September 15th
This unique combo tour allows you to experience the wonders of Vatnajökull National Park, recommended for everyone that wants to see & experience the glacier from different points of view. Embark on a Kayaking Adventure at Heinabergslón Glacier Lagoon located off the beaten path and go on a glacier walk a Breiðarmerkurjökull Glacier an outlet glacier from Vatnajökull.
The tours are led by local and professional guides to give you a safe and unforgettable experience in the breathtaking Vatnajökull region. The tours start in two separate locations, you will need to drive between locations
PLEASE NOTE:
If you book the 09:00 AM Combo Tour you will be booked at 09:00 AM on the Vatnajökull Glacier Walk with Glacier Adventure and 14:00 Heinabergslón Kayaking Tour with IceGuide
If you book the 14:00 PM Combo Tour, you will be booked on the 09:00 AM Heinabergslón Kayaking Tour with IceGuide and 14:00 on the Vatnajökull Glacier Walk with Glacier Adventure.
Glacier Walk
Our certified and experienced glacier guides will take you on an unforgettable journey to Breiðarmerkurjökull glacier, an outlet glacier from Vatnajökull, located off the beaten path and away from the tourist crowds.
Once you step onto the ice it will feel like you are located on an icy planet. You will see crevasses, small caves or tunnels as well as little waterfalls and streams and other beautiful ice features. During the tour, you will get the chance to learn about the glacier, its history, how it was formed, how it affects our community, and how it continues to change and shape every day.
The duration of the tour is approx 4 hours including preparation and drive (1,5 hours on the glacier).
Heinabergslón Kayaking
Glacier kayaking is the ultimate way to experience the magnificence of the world famous Vatnajökull National Park. Join us in an unforgettable trip and enjoy unbeatable panoramic views of the surrounding mountains and glaciers and their reflection in the mirror like water of the Heinaberg Lagoon. During the tour we step on one of the icebergs and take a short walk, overlooking the lagoon and surrounding area. Heinabergslón is "out of the beaten path".
This is the perfect tour for those who want to be environmentally friendly while exploring nature.
The Kayaks are SIT-ON-TOP boats, very stable and are suitable for first time kayakers. In the tours we use tandem kayaks (boat for two persons) for their safety, easy handling and stability. We also have single kayaks only in case of single travellers and/or odd number bookings. When booking, you select number of passengers, not boat or boat type. The type of boats will be chosen on spot accordingly by your guide, not upon request.
GOOD TO HAVE IN MIND
Disclaimer:All tours are taken at the responsibility of participants. Glacier Adventure does not take responsibility for accidents which are caused by their customers or can be traced to their own actions.
Please arrive at the tour meeting points 20 minutes prior to the tour departure
Reasonable fitness is required for the Kayak tour. Oversized people can expect having problems fitting the drysuits, and therefore unfortunately not being able to participate
For safety reasons participants cannot exceed 120 kg (270 lbs) in weight for single kayaks or 180 kg (395lbs) combined weight for tandem kayaks.
WHAT TO BRING
No matter where you're going in Iceland, it's important to choose the right clothing and dress according to weather. We strongly recommend dressing in layers so it is easy to take off or put on layers depending on weather.
Good waterproof shoes with ankle support (hiking boots )
Thermal underwear
Wool/fleece thermal mid-layer
Hiking pants.
Waterproof pants & jacket
Gloves & hat
Socks (wool or synthetic)
Sunglasses
Small backpack
Reusable Water-bottle
Food or Snack for a 6 hour tour (sandwich, chocolate bar, etc.)
Camera (optional)
BOOKING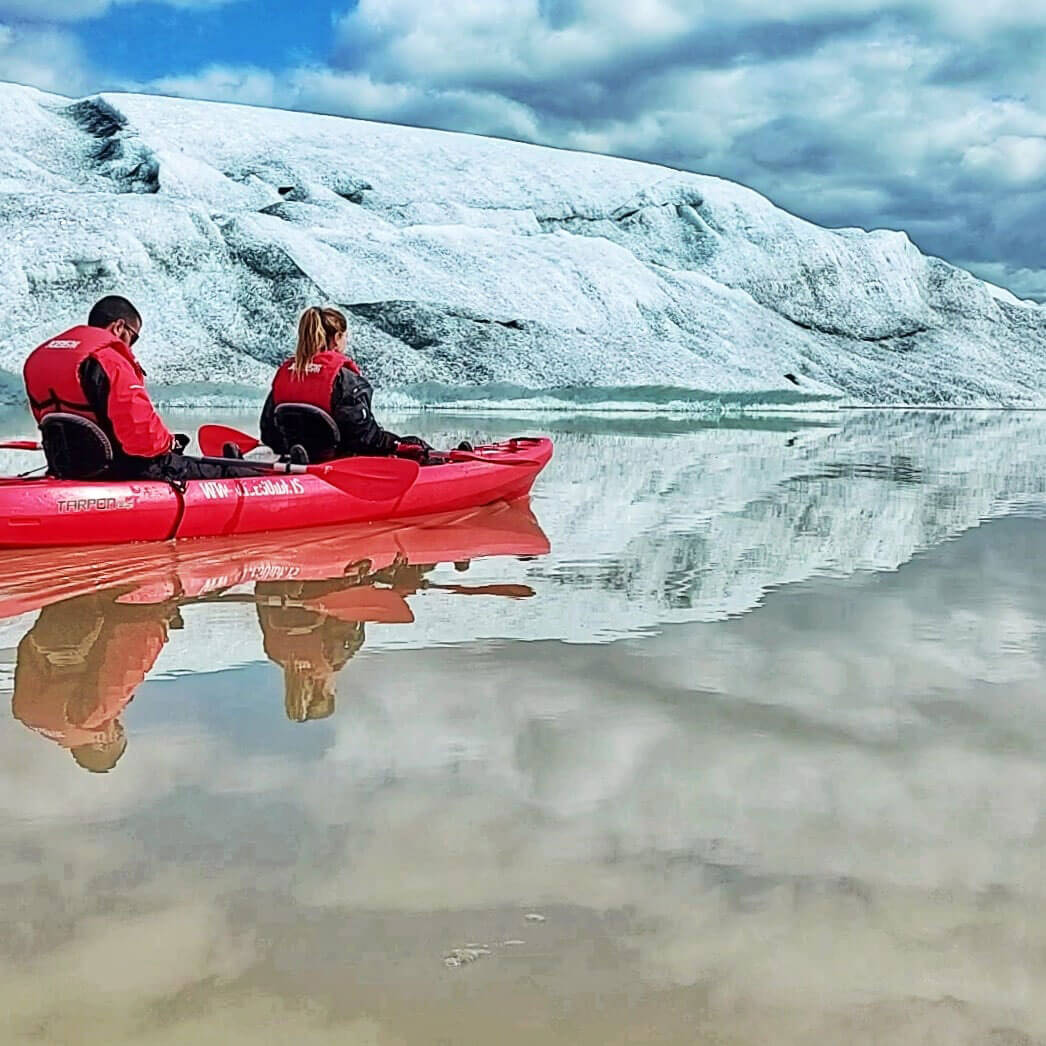 INCLUDED
Glacier walk:
Helmet
Crampons
Harness
Ice axe
Kayak Tour:
Kayak & Kayak paddle
Drysuit
Safety vest
Shoes
KAYAK ADVENTURE
Departure Time: 9:00 / 14:00
Meeting Point: Iceguide base at Smyrlabjörg Hotel
Duration: 3,5 hours/ 2 hours in the Kayak
Age Limit: 14 years old
Difficulty level: Moderate
Group min: 2 persons
Group max: 16 person
VATNAJÖKULL GLACIER WALK
Departure Time: 09:00 / 14:00
Meeting Point: Glacier Adventure base at Hali
Duration: 4 hours/ 1,5 hours on the ice
Age Limit: 10 years old
Difficulty level: Moderate
Group min: 2 persons
Group max: 12 person
Trip difficulty: Moderate
We strongly recommend participants to go over our list of equipment and be well prepaired for the tour. If participants are not adequately prepared or dressed according to the weather conditions, Iceguide reserves the right to refuse them to participate in the tour to ensure safety.
For further information on gear and clothing see FAQ´s
Age limit is 14 years old
Total duration of the tour: 8 hours
For privatized and CUSTOMIZED TOURS & SERVICE SEE Private Tours
For further information see FAQ or contact us at info@iceguide.is