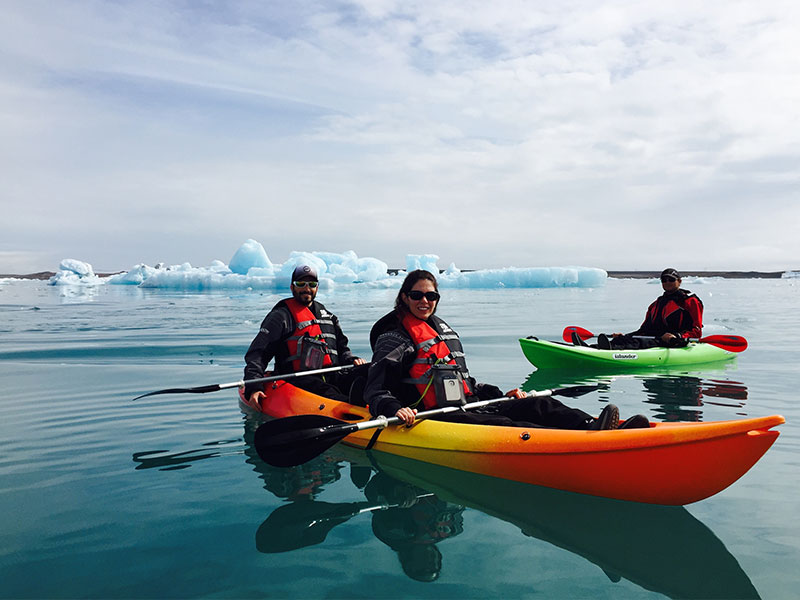 JÖKULSÁRLÓN
Tour location: Jökulsárlón glacier lagoon/Departure time: 9:30/11:00/12:00/13:30/14:00/15:30
Tour length total: 1.5 hours/ Price: 10.900 ISK Age limit: 14 years
Meeting point: Jökulsárlón parking lot

HEINABERGSLÓN
Tour location: Heinaberg glacier lagoon
Departure Time:  9:00/9:45/14:00/14:45
Tour length: 3.5 hours
Time on the kayak: Approx 2 hours
Price: 15.900 ISK | Age limit: 14 years
Meeting point: Heinaberg/ Includes short introductory walk on the ice.
Esjufjöll í Breiðamerkurjökli teljast til jökulskerja og eru umlukin jökli á alla vegu. Fjalllendið er í 1100m hæð. Esjufjöll hafa að geyma fjölskrúðugt plöntulíf og óhætt er að segja að um sé að ræða einn stórbrottnasta stað landsins. Í ferðinni er gengið upp eftir Breiðamerkurjökli 16-18 km leið. Gangan er löng á frekar sléttum jökli, en fara þarf um nokkra ójafna kafla sem þræða þarf um jökulsprungur, þó án tæknilegra erfiðleika eða klifurs.
Availability: November – March
Tour location: Vatnajökull
Departure time: 9:15/10:00 Tour length total: 5-6 hours
Price: 29.900 ISK Age limit: 16 years
Meeting point: Jökulsárlón parking lot
Difficulty Level: Moderate/Difficult
CUSTOMIZED TOURS
& SERVICE
Iceguide offers privatized, customized tours and service. If you are looking towards exploring amazing places, glaciers, ice caves, mountains, go ice climbing, hiking driving in super-jeeps or kayaking.